Kenwood kr v home theatre surround sound amp
Kenwood kr-v home theatre surround sound amp / receiver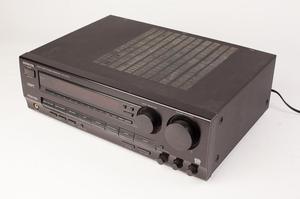 kenwood kr-v home theatre amplifier...full surround sound, dolby pro logic...100 watt per channel, high quality sound system...can also be used as a normal hi-fi stereo amp / receiver...
Marantz theatre surround sound amp sr in manchester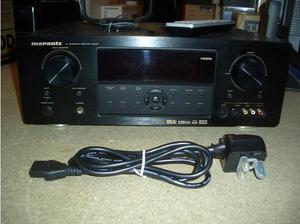 1 surround sound capable...can provide spec sheet and operating manual by pdf priced to clear...works fine - dolby dts etc etc...as new condition but 2 rear optical ports a little loose...
Onkyo tx-sr505e 7 channel surround sound amp
Onkyo tx-sr505e 7 channel surround sound amp £125 this amp is not beautifully twinned with an lp12 but it a great for home cinema and beats most newer ones for quality...with manuals and remote control...
Panasonic surround sound system for sale
I have an awesome sounding panasonic home theatre surround sound audio system for sale...system comes complete with av control receiver sa-ht05, subwoofer sb-wa05 5 speakers (1 medium sb-pc surround sb-ps725...
Sony a/v home cinema surround sound amplifier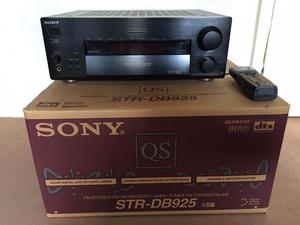 1 digital surround sound, 100 watts per channel output, rds radio...sony str-db925 a/v home cinema amplifier, dts & dolby digital 5...boxed as shown, includes "smart remote"...in full working order & excellent...
Sony ss ts home cinema surround sound speaker system
Sony ss ts home cinema surround sound speaker system great sounding and looking aluminium body system blends in with most surroundings...connects using standard spring clip fixture with all so can be used...
Sherwood r-125 rds surround sound amp
Sherwood newcastle r-125rds dolby pro-logic surround receiver...a basic but powerful surround sound receiver that can also be used for fm radio and to play cd's and vinyl albums...this is a premium amp/supressor...
Panasonic home theatre blu-ray surround sound system
Panasonic blue-ray home cinema surround sound system...good condition, hardly used...woofer plus 5 speakers...remote control and instruction manual...
Sony bravia 32" hdmi tv complete with sony home theatre
Superb sound quality through both the tv and the home theatre surround system...excellent condition, ideal for tv or gaming...
Pioneer vsx-av and tangent surround sound speakers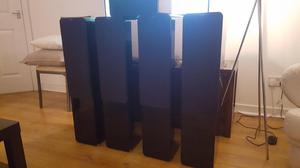 Hi i'm selling my home surround sound amp pioneer vsx-av and 4 tangent clarity 8, floor standing speakers, tangent evo e24 center speaker...this system is really good and the sound is brilliant...
Hyperx hx-usccamss-bk usb virtual 7.1 surround sound amp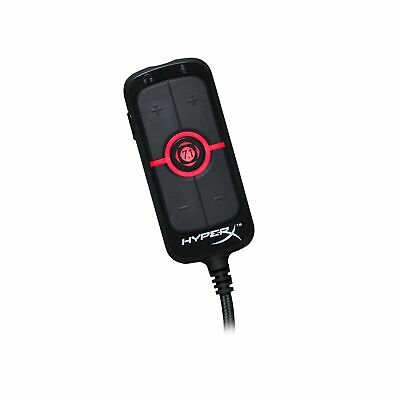 1 surround sound...simply connect to the hyperx amp and the advanced digital signal processing sound card will provide enhanced microphone noise-cancellation and upgraded audio with plug n play convenience...
Panasonic blu-ray bt735home theatre surround sound. in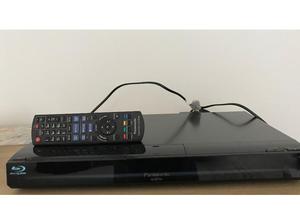 Excellent surround sound speaker system...2 tower front speakers 2 tower rear speakers centre speaker subwoofer remote control instruction manual this is used but is in excellent condition...
Onkyo tx-sr606 surround sound system
Onkyo av receiver surround sound amp in good working order, just swapped it for a sound bar so was in use until last sat onkyo speakers, sub woofer skw 501 and skf/c 528 respectively, remote, cambidge...
Surround sound amp in cambridge

Yamaha surround sound av amplifier...
Samsung home cinema surround sound system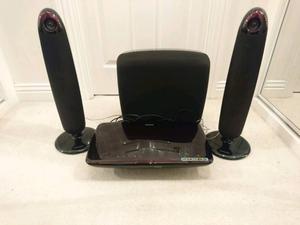 Samsung surround sound system...good condition and all working correctly...please text as cannot email from my phone...
Hitachi sr-10 surround sound system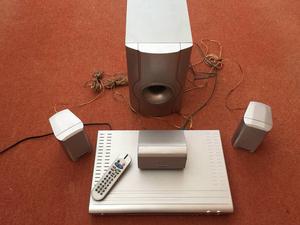 Hitachi sr-10 home cinema surround sound system, with instructions...good condition and sold as seen...
Panasonic home cinema surround sound system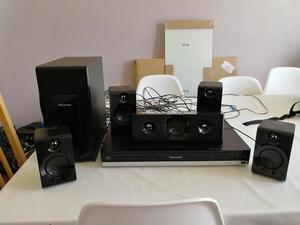 Bluray, bluetooth, nfc connection, dolby true hd, dts-hd, subwoofer and 5 surround sound speakers and wiring...
Sony home cinema surround sound str-ks
Great condition, used surround sound gear - no longer needed as gifted newer...control unit 4x free standing speakers 1x central speaker 1x subwoofer remote control £30 collection only, bristol...
Mordaunt short home cinema surround sound speakers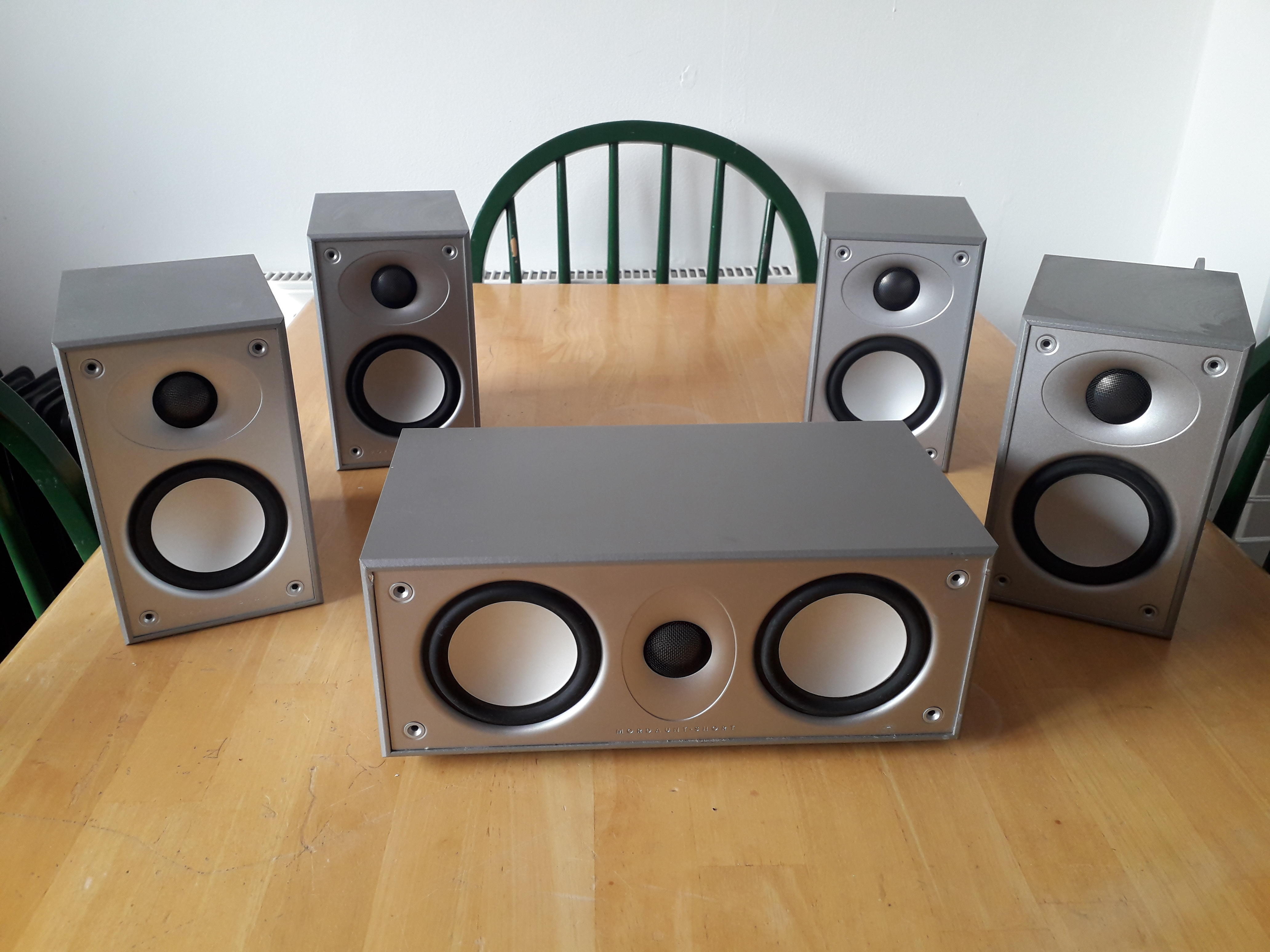 Set of five surround sound speakers 1 x ms304 centre speaker 4 x ms302 for front speakers and rear speakers 80 watts 4-8 ohm...
Sony home entertainment & surround sound system exc.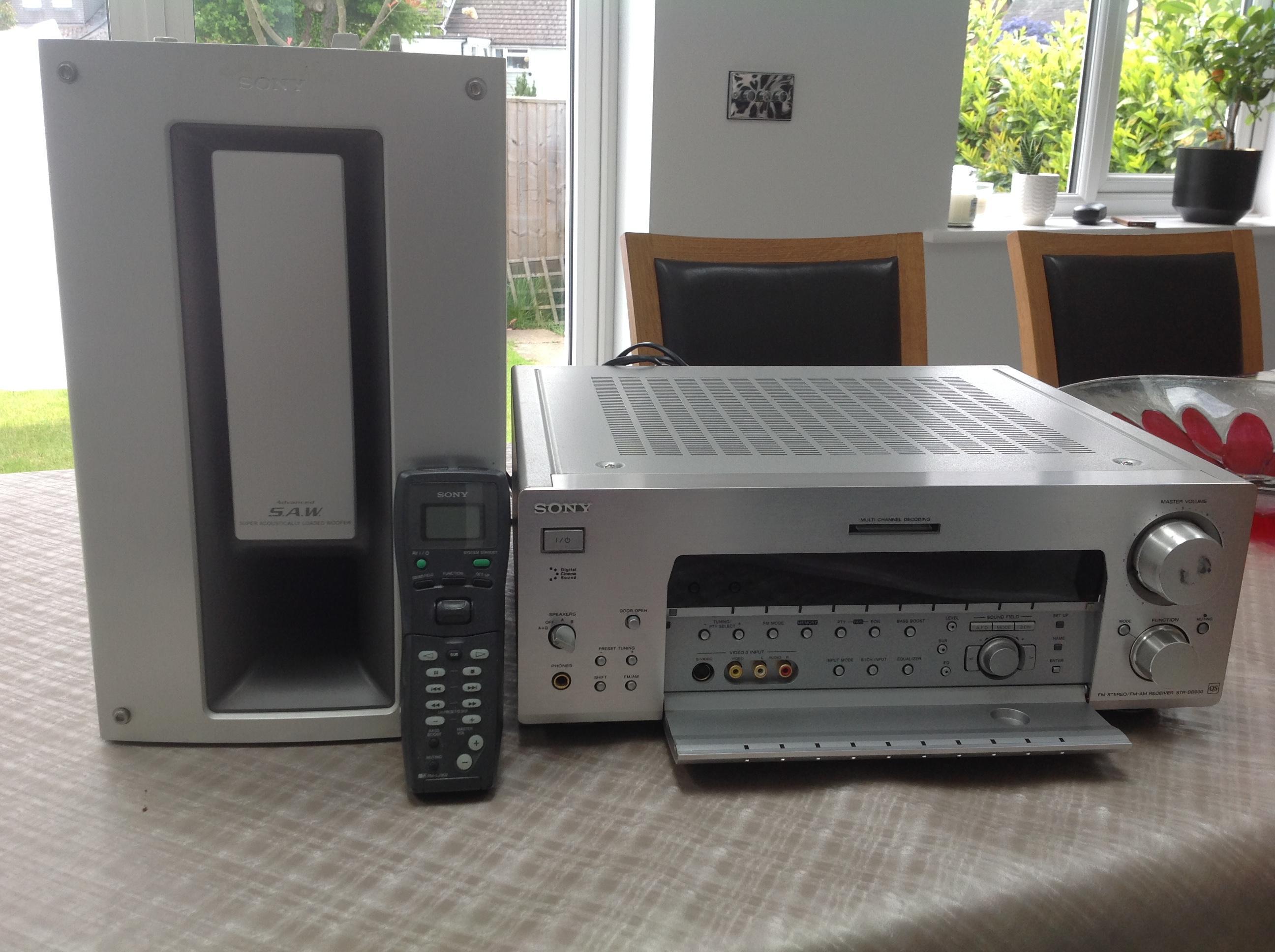 Sony home entertainment & surround system str-db939 plus sub woofer and remote commander...all operating manuals included...no speakers included...unfortunately, during our house move there was some minor...
5.1 surround sound system
1 surround sound and amp...1 surround sound speaker system and amp...the amp was bought in...i am unable to tell you very much technical detail and rely on interest people knowing their stuff but, i can...
Logitech z digital pc multimedia home theatre speaker system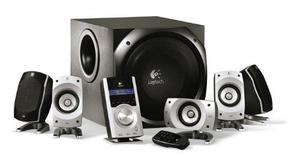 1 surround sound system...the leading speaker system with awesome surround sound...as new, this digital surround system is ideal for gamers and anyone who watches movies on their pc...
Sony surround sound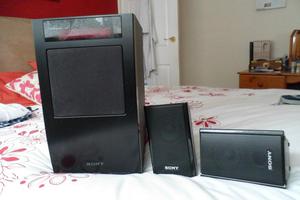 400watt home theatre system 2...1 surround sound with remote control...connects to tv/tivo/bluray through hdmi cables (not supplied) search sony ht-fs3 for more info/specs etc...
Sony surround sound system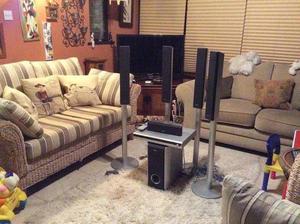 Sony surround sound home theatre system comprising four column speakers, sub woofer, short bar speaker, hdmi amplifier, remote...excellent condition, silver finish...what else is there to say? read more...
Onkyo 5.1 home cinema speakers and amp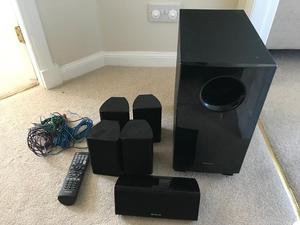 Superb onkyo cinema surround sound speaker package and av amp ht r380 few scratches on sub, no tears on speakers, all good condition...have two black surround speaker stands if interested too...
Kenwood kr-v watts per channel surround sound am/fm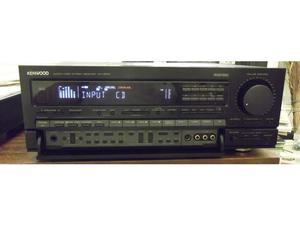 This was kenwood's top-of-the-range receiver in and offers 130 watts per channel, am/fm tuner with 20 radio station presets, inputs for phono (turntable), cd/aux, 2 tape/md recorders, 4 video sources...
Goodmans cd player with home surround sound system.
Amazing sound from 5 speakers...integral amp just plug and play your vintage compact discs...compact goodmans cd disc player with 5 speaker mikomi surround sound audio system, the am216 has three set independant...
Surround sound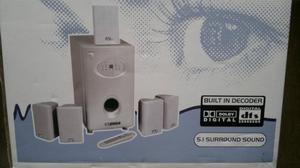 Acoustic solutions ds633 active home theatre system 5...1 surround system with built in decoder in original box with instructions read more...
Home theatre system - for sale..sony bdv e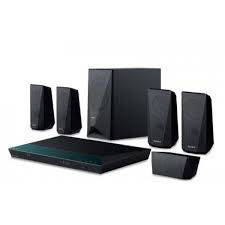 1 channel surround sound...entertainment to suit your lifestyle give the room movie sound and film-star looks...enjoy style and simplicity rolled into one...with the e you can watch your favourite entertainment...
Samsung smart tv & surround sound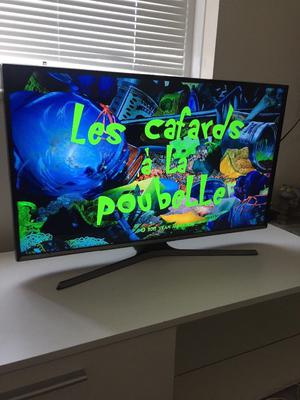 32" smart samsung tv with cinema theatre panasonic surround sound with 5 speakers all optical quick sale bargain for grabs, genuine people only message please no timewasters collection de23 can be delivered...
Did not find what you're looking for? Try again